Joseph M. Baldacci Honored with Client Distinction Award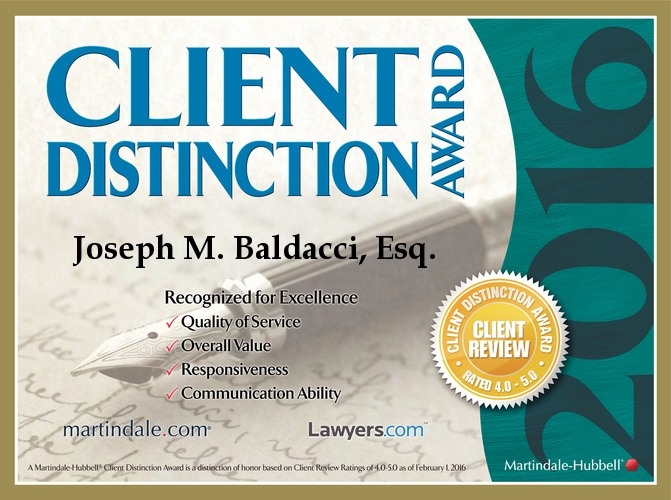 After lawyers have been evaluated on their service and relationships skills, those lawyers who receive three or more client reviews with a numeric score of 4.0-5.0 are recognized with the Martindale-Hubbell® Client Distinction Award.
Martindale-Hubbell is an information services company to the legal profession founded in 1868. The company publishes the Martindale-Hubbell Law Directory, which provides background information on United States lawyers and law firms. Martindale-Hubbell is owned by consumer website company Internet Brands.
"I am honored to be informed by the law publication Martindale-Hubbell, which is pretty much the gold standard for attorneys nationally, that I have earned the Client Distinction Award for 2016," responded Baldacci. "This award goes out to the top 1 percent of highly rated lawyers in the country. In addition to the standard peer review, this award is based on client satisfaction and performance.
"This is the second time in my 25-year career that I have earned this award," Baldacci noted. "My sincere thanks to all my clients for their support. I have had the pleasure of literally representing thousands of Maine people -- and a few from away!"
About the Martindale-Hubbell Client Review Ratings
Martindale-Hubbell® has been facilitating Martindale-Hubbell® Peer Review Ratings™ for more than 130 years. A few years ago the company added client ratings. Together these ratings programs provide prospective clients with a 360-degree view of a lawyer's professional credentials.
Martindale-Hubbell® Client Review Ratings allow the provision of client feedback on a lawyer or law firm by completing a brief evaluation of a lawyer's and/or law firm's services and other professional qualities. There is no cost to participate in Client Review Ratings.
Client Review Ratings assess communication ability, quality of service, responsiveness and value for the money on specific matters for which the lawyer or law firm is engaged. Also included are an overall recommendation option, basic demographic questions about the client and the option to provide additional feedback in narrative form.
Client Review Ratings help provide an objective platform where clients can share their experiences working with a specific lawyer or law firm. This information assists other potential clients when deciding whether to retain a lawyer.
For many years, Martindale-Hubbell® Peer Review Ratings™ have been viewed as an important rating in the legal industry, allowing legal professionals to provide feedback on their colleagues. The Client Review Ratings program was established to address the growing needs of buyers of legal services to have feedback from other buyers of legal services about the lawyers and firms they have retained. Both of these ratings programs complement and support the information provided by individual lawyers and law firms, and help potential clients who are evaluating lawyers and firms.
For more information, go to: www.martindale.com
###