Attorney Profile: Joseph M. Baldacci, Esq.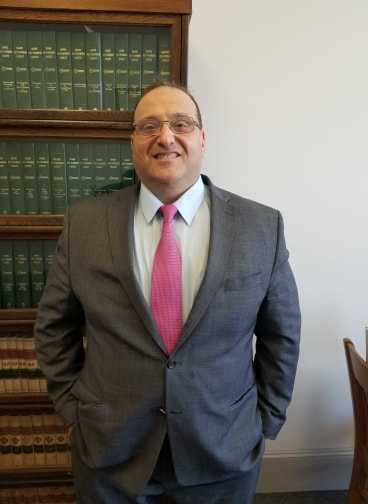 Joe Baldacci was born, brought up and educated in Bangor.
Joe graduated in 1987 with distinction from the University of Maine with a Bachelor of Arts degree in political science and in 1991 from the University of Maine School of Law, Portland, with a Juris Doctor. While at Maine Law, Joe co-founded the Maine Association for Public Interest Law (MAPIL), which still is going strong and raising money for scholarhips awarded to law students who work in the public interest legal field. Joe has been a member of the Maine Bar since 1991, when he established his own general practice in downtown Bangor.
As an attorney for the last 23 years, Joe has represented literally thousands of people in many different types of cases. He has worked in Maine district courts in almost every county in the state; he has tried jury and non-jury cases in Maine Superior Court; and he has argued cases several times before the Maine Supreme Judicial Court, when it sits as the Law Court. He also has argued in front of the 1st Circuit Court of Appeals in Boston.
Joe has tried hundreds of cases in court and has won many of them. He works with individuals, families and small businesses. Much of Joe's current practice is centered around family law, divorce, parental rights, custody and related issues; he also represents clients before state, local and federal agencies and boards.
A member of both the Maine State Bar Association and the American Bar Association, Joe has won awards for his pro bono (donated) service to clients, as well as for his service to families and grandparents. From 1991 to 1998, Joe was pro bono legal counsel for Rape Response Services.
Joe was the attorney in the seminal Maine case helping to define the rights of grandparents to visit grandchildren, Rideout v. Riendeau (Maine 2001). He has worked on hundreds of cases to help parents and family members ensure that the best interests of the child are served.Joe also was lead counsel on, co-wrote the appeal and argued Zablotny v. State Board of Nursing (Maine 2014) before the Maine Supreme Judicial Court, assuring that a licensed professional nurse would get a fair hearing.
Dedicated to community service and an ardent supporter of the greater Bangor region, Joe was elected to the Bangor City Council in 1996 and in 1999 and served a term as mayor from 1998-1999. He is serving his fourth term on the Bangor City Council, for which he chairs the Infrastructure Committee and serves on both the Government Operations and Business and Economic Development committees. He now serves as chair of the city's Business and Economic Development Committee.
As a Bangor city councilor, Joe has fought to protect basic social services for all city residents, including the Bangor City Nursing Home. He has stood up for the Bangor Fire Department's proposal to provide paramedic service despite private sector opposition. He also supports expanding broadband service to the region.
Joe has been a long-standing vocal supporter of Bangor schools and a strenous advocate for economic development in the greater Bangor area.
Joe lives in Bangor with his wife, Elizabeth, who also is an attorney with the Baldacci firm. They have two daughters, Caroline and Olivia, and a lovable golden retriever, Rosie.
Joe's email: jbaldacci@baldaccilaw.com
Special Cases
Rideout v. Riendeau (Maine 2001); this case helped to define the rights of Maine grandparents to visit their grandchildren.
Zablotny v. State Board of Nursing (Maine 2014); this case assured that a licensed professional nurse would get a fair hearing.
Education
University of Maine, Orono -- Bachelor of Arts degree in political science, with distinction, 1987
University of Maine School of Law, Portland -- Juris Doctor, 1991
Bar Admission
State of Maine -- admitted 1991
U.S. District Court -- admitted 1991
1st Circuit Court of Appeals -- admitted 2001
Penobscot Tribal Bar
Affiliations
Bangor City Council
Eastern Maine Medical Center Capital Campaign Committee for the Neonatal Intensive Care Unit, Member